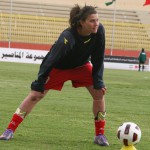 Today we will be joined once again by Honey Thaljieh former captain of the Palestinian woman's football team.  Honey spoke last night at the festival of ideas event about how football can be a force for good in the world.  Honey will introduce 'Women in the Stadium' directed by Sawsan Quod and produced by the Aljazeera Documentary Chanel.  The film which was only completed in July 2011 is screening in the UK for the first time, today at 13.00 at the Watershed.
There is a strong focus today on Palestinian directors, and continuing this theme Samiha Abdeldjebar will be discussing one of the most well know directors from Palestine – Elia Suleiman.  Elia was famously refused an Oscar nomination in 2002 on the basis that 'Palestine was not a country'.
Finally today we will be screening Amreeka by Chieren Dabis, this comic drama follows the adventures of Muna, a single mother who leaves the West Bank with Fadi, her teenage son, with dreams of the future in the promised land of small town Illinois.  Amreeka is preceded by an inspirational short produced and directed by the Saaheb Collective called 'Eid'.  The Saaheb Collective is composed of a group of friends working in various media, who believe in the power of art and creativity as a means to impact social transformation.  We are delighted that we will be joined by one of the directors on this project to introduce 'Eid' and take part in a Q & A about the movie.
For more information about tickets log onto the Watershed Box Office.