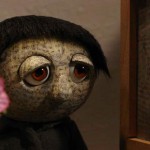 Today sees a return to films with two fantastic screenings from Palestinian and Jordanian directors at the Watershed from 18.00.  The first screening is of 'Missing' directed by a young Jordanian film maker Tariq Rimawi has won numerous awards, the second 'My Name is Ahlam' is directed by Rima Essa a 35 year old Palestinian woman living in East Jerusalem.  The festival so far has skirted around some of the hardships of life in Palestine, we have looked at love, at humour and at football.  But both tonight's movies portray some of the hardships of life in Gaza and the West Bank.
The idea for My Name is Ahlam began with the directors experiences at checkpoints.  Four years ago, she was standing in a slow-moving line at the Qalandiyah checkpoint. When she looked up, her eyes met the gaze of a little boy of about four or five, in his mother's arms. He was wailing and his face had a yellow pallor. His mother handed some papers to a soldier at the checkpoint who checked on a computer and told her she could not go through because she was listed as a "security risk." The woman handed him some more documents and explained that her son was sick, that she had to get him to the paediatric oncology department at Hadassah University Hospital in Ein Karem for treatment, but the soldier just shook his head. As Palestinian Israeli who has a blue Israeli ID and speaks Hebrew, Essa interrupted and asked the soldier to reconsider letting the woman through. The soldier agreed that the boy was clearly unwell, but all he could suggest, was Essa take the boy through. This wasn't the first time that a problem of this kind came up, where a child was permitted to go through, but the parent wasn't. The incident in Qalandiyah stayed in her mind, and she decided to make a movie about one of the paediatric oncology wards in the territories.
Tickets for this evenings screenings are available from the Watershed box office.