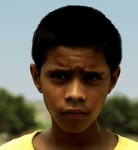 The penultimate day sees the screening of Checkpoint, the final film in the 2011 season.  This multi-award winning short, will be screening at 18.30 @ 80 Hamilton House – follow this link for more details.  Some may say we are saving the best to last – its prizes include:
– LONG ISLAND INTERNATIONAL FILM EXPO (USA)
**BEST SHORT FILM**
– CROSSROADS FILM FESTIVAL (USA)
**BEST SHORT NARRATIVE AWARD**
– L'AQUILA FILM FESTIVAL (Italy)
**BEST FILM 2011**
– MEDFILM FESTIVAL (Italy)
** BEST SHORT FILM – METHEXIS AWARD**
Last night we received our second sell-out crowd, with the world premiere of Over the Wall, plus interviews with 7Stones directors Conor McCormack and Becky Bell; and the screening of Circus2Iraq's short from Gaza and the West Bank.