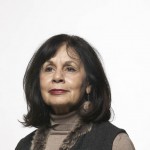 "Film is a brilliant medium to help people understand important issues, and none is more important than the Palestinian conflict with Israel. The Bristol Palestine Film Festival is a brave, new initiative to bring the reality of the Palestine-Israel story to the screen. It had its first runaway success in 2011. With your support, the next will be even better." Dr Ghada Karmi
The Bristol Palestine Film Festival is pleased to announce the first of five festival friends that will be announced before the launch of the 2012 programme.  Dr Ghada Karmi is a leading Palestinian activist, writer and academic. She is co-director of the European Centre of Palestine Studies at the University of Exeter, and a patron of the Palestine Solidarity Campaign and a member of the Executive Committee of the Council for Arab-British Understanding. Her memoir, 'In Search of Fatima', was widely acclaimed, and her most recent book. 'Married to another man: Israel's dilemma in Palestine', is an analysis of the Israeli-Palestinian conflict from the Palestinian point of view.
Dr Ghada  Karmi first attended the festival in 2011 and has offered the organising team invaluable support and wisdom in the years that follow.  She is a positive force of good in the world and an inspiration for many students based at the University of Exeter and beyond.
The festival is entering the second week of our fundraising campaign and we need your help.  Please donate what you can, there are still many unique prizes up for grabs log on to our crowd funding website for more information.  If we exceed our target this will just help us bring more films and speakers to audiences in the South West.