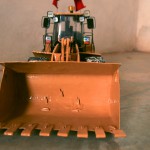 Eid has recently been awarded the "Best Documentary Short" award Amal Euro-Arab Film Festival.  The film which premiered at the Bristol Palestine Film Festival in 2011 was created by the Saaheb Collective and can be viewed online here.  We will be exhibiting photos from Eid's latest project "Dream House" at the Parlour Showooms, College Green Bristol from the 10-16 December.  At the exhibition we will also be auctioning one of Eid's models to raise funds for Eid's artistic work and the Villages Group. This unique piece (Wheel Loader Caterpillar Tractor, 2012) was commissioned by the Bristol Palestine Film Festival from artist Eid Suleiman Hadaleen.
The Caterpillar tractor is a familiar sight to anyone living in the Occupied Territories.   It embodies the cycles of destruction and construction that are constantly reshaping the land and lives of the South Hebron Hills.  The yellow Caterpillar is symbolic of construction, as opposed to the military vehicle used for destruction, but construction is not necessarily positive. Likely it will be a new settlement, barrier, or road, bringing further constraint to the lives of Palestinians.  No wonder then, that Eid Hathelin's work was originally met with suspicion in his own community. Using scrap materials which he finds lying about his home in the Bedouin village of Um Al-Kheir, the twenty-six year old artist is creating a growing collection of Caterpillar tractors, bulldozers and Black Hawk helicopters. In other words, Eid's modest concrete dwelling is rapidly filling up with a miniature gallery dedicated to the machinery of occupation. But as Eid says, 'We have to hold people to account, not machines'.
More details on the auction and exhibition will follow later this month.