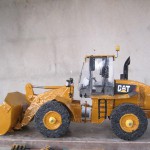 This unique piece (The Bristol Caterpillar, 2012) was commissioned by the Bristol Palestine Film Festival from artist Eid Suleiman Hadaleen.
The Caterpillar tractor is a familiar sight to anyone living in the Occupied Territories. It embodies the cycles of destruction and construction that are constantly reshaping the land and lives of the South Hebron Hills. The yellow Caterpillar is symbolic of construction, as opposed to the military vehicle used for destruction, but construction is not necessarily positive. Likely it will be a new settlement, barrier, or road, bringing further constraint to the lives of Palestinians.
But as Eid says, 'We have to hold people to account, not machines'.  Find out more about how to place your bid here.