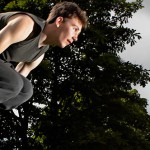 Next up at this year's festival is the chance to partake in Free Running, followed by a screening of Free Running Gaza at the Knowle West Media Studio.  If you intend to join us at 12.45pm at the Park to try or watch Free Running, then please bring comfortable and practical clothes.  Running shoes, tracksuits, rain jacket… etc.  For periods of the workshop you will be watching others, so please bring warm clothing.
If you have concerns about any pre-existing health conditions precluding you from taking part either email us, or discuss it with the practitioner on the day before taking part.
For those just wishing to watch the film doors open at the Knowle West Media Studio at 2pm.