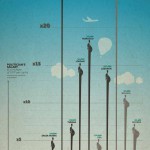 In 2012, we exhibited a series of images from Visualising Palestine (VP).  We are pleased to announce that the VP team working with the Visualising Impact (VI) team have been short-listed for the Kantar Information is Beautiful Awards,  a prestigious worldwide competition celebrating excellence in data visualization. VI is a collective that employs research, data, social sciences, technology, design and urban studies to produce creative visuals for social justice. VP is a pilot project of Visualizing Impact.
We're sharing their infographic because the winner of the Kantar Awards is decided in part by online votes from people like you, so they need your help… they have just five more days to get as many votes as they
can.
Voting takes ten seconds, and makes a huge difference. Just follow this link, find "Politicians' Salaries and Income Inequality", fourth row down the page, and click "Vote for This Entry" to cast your ballet! http://www.informationisbeautifulawards.com/2013-shortlist/data-visualization/.
If you want to do more, forward this email to five friends, and help put us on the data visualization map!