Part of the BPFF Artist in Absence series
A stunning mural by the Gaza-born Palestinian artist Malak Mattar was painted in Jamaica Street, Bristol and on display throughout February 2022. The mural marks 11 years of the Bristol Palestine Film Festival, a celebration of Palestinian culture and the power of international solidarity. It is the second mural in the BPFF Artist in Absence series.
The mural was brought to life by an all-female team of local artists, including the Women in Paint Collective and UWE student volunteers studying art. They were supported by Benoit Bennett, an established Bristol artist and Director of The People's Republic of Stokes Croft. The project was made possible with support from the UWE Bristol Community Fund and Quartet Community Foundation.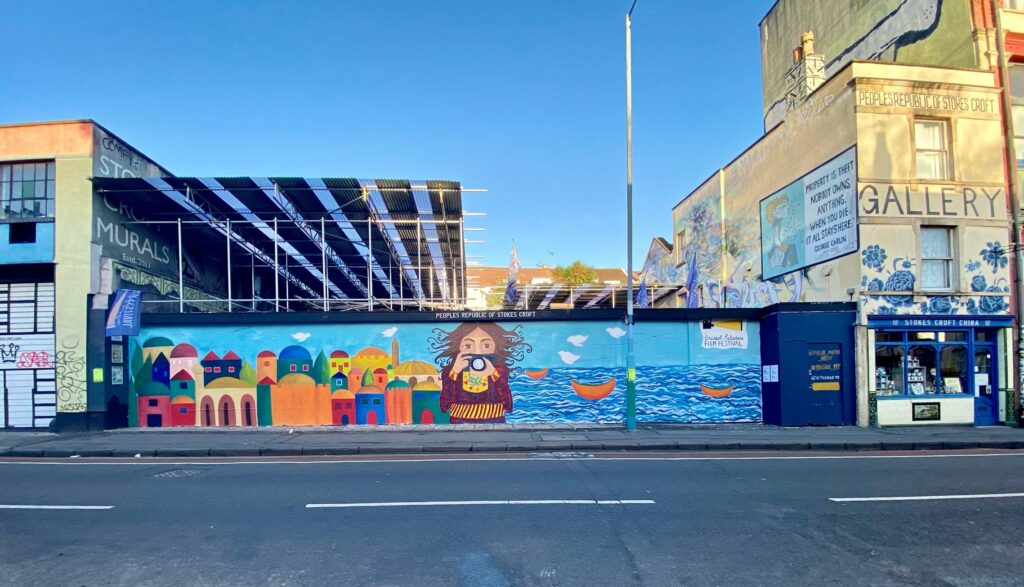 "We are thrilled to be able to share Malak's work with the Bristol public through this specially commissioned artwork," says Karena Batstone from the BPFF team "and we would like to thank all of those involved for this successful collaboration. This mural presents an alternative vision of Gaza – richly cultured, intricate, and complex – with doves of peace surrounding a defiant female figure in traditional dress. With her camera she engages the viewer and invites us to hear her story.
Malak is delighted that the mural on Jamaica Street is in 'dialogue' with Mr Cenz's 'United Souls, United Goals' mural in nearby Stokes Croft, with its message of 'rise up and stand tall'. As the solidarity between the BLM and Palestinian Liberation movements continues to grow, it illustrates the vital role that art has to play. "
About the artist
Malak Mattar is a 22-year-old artist from Gaza, Palestine. Her intimate and emotive paintings depict women's everyday life in Palestine in a colourful and vibrant style that shies away from melodrama or victimhood. Malak combines modernist influences, such as Picasso and Frida Kahlo, with motifs from Palestinian heritage crafts such as embroidery to produce paintings that are visually arresting and distinctively Palestinian.
Women in Paint Collective
Women in Paint (formerly Bristol Womxn Mural Collective) is a community of womxn who are interested and involved in the street art and mural scene of Bristol. The collective organises paint jams and monthly meet ups and is open to both established mural artists, and to those who have never painted a mural before. The collective is constantly growing and aims to provide advice and workshops, in order to skill share and empower womxn to paint big.