Bristol Palestine Art and Photography Exhibition
Thursday 1st December to Saturday 10th December, 2011
Hamilton House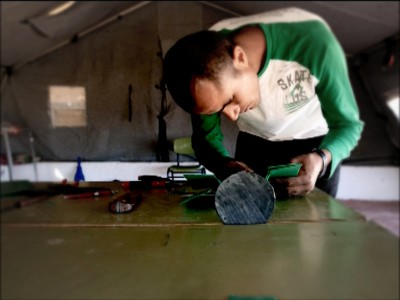 The festival's arts and photography exhibition brings together a mix of local and international works from both Palestine and the UK, with the overarching theme of displacement.
It features a diverse range of contributions, including paintings and photographs by Bristol activists such as Cliff Hanley and Jess Orlik and images from local football team Easton Cowboys' recent tour of the West Bank. Palestinian artists featured include cartoonist Majed Badra and Eid Suleman, a self-taught model maker from the Bedouin community of Umm Al Kheir. There are also photographs from the village of Susiya and Al-Arrub refugee camp, as well as a rare opportunity to see images from the Gaza kite festival during which 6000 children attempted to break the world record for simultaneous kite flying.
The exhibition is curated by Mark Sands, a West Country artist and long-standing Easton Cowboy.
See below for some wonderful footage of the Gaza Kite festival in 2009, photographs from which will be exhibited at the gallery.