Oh my, it's an interesting time for the film festival.  We are growing as an organisation and growing in confidence, but there is still a lot to learn, and a lot to do.  In amongst all the work involved with fundraising and organising the programme, there are some unique pleasures and high points.  This week Daniel Bosworth and I met with Carolina Rivas, Daoud Sarhandi and their young daughter, during a busy  lunchtime at the Watershed.  Inbetween trying to entertain the children as they made the most of the Watershed's open plan design, we managed to set in motion some plans for screening the Colour of Olives at the festival in 2012.
The film is an atmospheric portrayal of one family's day to day experience of living within the Wall.  Daoud spoke to us about the attention to detail in the film how it was shot across 8 days, Saturday to Saturday, and how with each day it focuses on the human dramas that unfold and the endearing details that sustain the family including school friends, olive trees and two small donkeys.  I'm looking forward to securing a venue for this film and Daoud also spoke of the possibility of arranging some editing workshops as part of the festival.  See a sneak preview here:
http://www.youtube.com/watch?v=_dtE_0crg2w
I was interested this week to find out about the launch of Art School Palestine's artist in residence scheme  an international exchange fostering artistic practice through ground-breaking commissions in visual art, film and documentary.  We hope to explore avenues to link up with that crowd in the future, either in 2012 or 2013. In the meantime we wish them luck.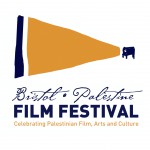 So what else?  Well you might notice a new look to 2012 courtesy of Aurelia Lange who has been working tirelessly with the festival and worked up a new set of designs for the logo and flyer.  We hope that there will be more news on that later this month, and we've already raised £200.00 by offering five limited edition screen prints. Its been really great working with Aurelia and she has brought in lots of new ideas and a real enthusiasm to the festival.  We're hoping to update the festival website, and social media accounts by the beginning of September.
We still have a long way to go.  Its testimony to the DIY attitude of the people involved in the festival that we just believe it will come good in the end.  Our modest target of £1,000 will allow us to put together a weekend event, but we are looking for funding from the city, (and further afield) to help make this all a reality.  The 2011 season was such a success, and the people I meet are so happy to hear and see the stories we curate that it's hard to believe we won't get there in the end.  If you can help please do contribute:
http://www.crowdfunder.co.uk/investment/bristol-palestine-film-festival-2012-1077