In less than 25 minutes…
Thursday 13th December, 2012, at 19:00
Hamilton House, BS1 3QY
In less than 25 minutes…
An evening of the latest short films on Palestine presented in partnership with Easton Energy Group.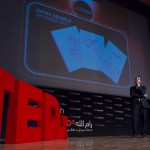 Keeping Palestine Cool – TEDX Ramallah
While the rest of the world is talking about one state or two state solutions, Canadian born Palestinian Khaled Al Sabawi discussed the Green State Solution, and his efforts to create an independent geothermal Palestine
Haneen – Ossama Bawardi
Haneen, a woman in her mid 60s lives alone in a Palestinian city, estranged from her husband and son. Haneen, the name itself meaning 'nostalgia', waits daily for replies to letters that remain unanswered, living past and present in solitude. On befriending Salem, a boy from the neighbourhood whom she finds stealing fruit in her garden, she appears to develop a new spark of life.
Private Sun – Rami Alayan
Mariam is instructed by her doctor to sunbathe in order to reverse the vitamin D deficiency that is causing her a bone illness. But with nosy neighbours, an overbearing sister-in-law and Israeli surveillance planes, private moments under the sun are precious and rare.  Read more about vitamin D deficiency in Palestine and the middle-east with these notes provided by PalCineProductions.
They Came in the Morning – Leila Sansour
Leila Sansour's latest work depicts the reaction of a Palestinian farmer who discovers one day that his livelihood has been destroyed with no prior warning or reason why.
Yala to the Moon – Suhel Nafar & Jacqueline Reem Salloum
Peddling CDs on the streets of the West Bank, Aseel uses her imagination to magically remake the world around her.
7 Stones – Conor McCormack and Becky Bell
7 Stones comprises of interwoven documentary and drama elements; a powerful short film written in collaboration with Palestinian children and an emotive real life journey through Bethlehem's fragmented landscape. The film attempts to look beyond the complex political situation in the region to focus on one of the human stories that for the most part remain untold.
My Home is Everything – Ibrahim Nawaja
June 2012 in Susiya, the entire village was threatened with demolition orders. Ibrahim a young Palestinian talent from the village being supported by his peers and the villages group, took the initiative of making a short film in order to personalise the issue – to make the point that it is not just about destroying people's homes, but their lives. He wanted to make people know whose lives the demolitions will be destroying. This video was made in the most simple fashion because of time and equipment constraints – with the whole process completed in the space of a week and using only a tiny video camera and a tripod. Ibrahim asked five women and four men in Susiya to share their feelings and fears about living under the constant threat of demolitions and expulsion by the Israeli authorities. Ibrahim's use of the skills he had learnt over the last year the college of Dar al Kalima in Bethlehem and his sensitivity towards the project resulted in this short video – an authentic and human testimony of the residents of Susiya.  Read more about Ibrahim and his village here.
How to book
Tickets £3 available on the door from 18.15 arrive early to avoid disappointment.  Tickets also available in advance from:
Bristol Ticket Shop, 26 UNION ST, BS1 2DP
TEL 0870 44 44 400/0117 929 9008
£3 (+booking fee), book online here.