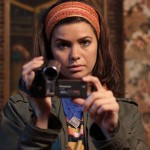 Currently on show at Bristol Museum & Art Gallery is Pharoah: King of Egypt a British Museum Touring Exhibition which explores Egypt's past, the iconic world of the Pharoahs, and includes many world class artefacts that have never before been on display outside London.
To complement the exhibition, Watershed in partnership with BristolPFF go beyond Cleopatra and mummys to take a journey through contemporary film into present day Egypt, a place that has experienced momentous social, political and cultural upheaval. Those defining 18 days in Tahrir Square did not, of course, come out of the blue. This season focuses on the recent surge in contemporary Egyptian filmmaking, providing essential context to the revolution, celebrating a new generation of talent who have created fresh new perspectives on Egypt and its people.
With thanks to New Wave Films, Cornerhouse and curator Omar Khoeif.
To find out more log onto Watershed website.