Inspiring contemporary and classic films from the Arab region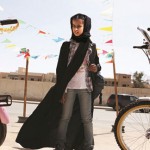 The BFI Southbank's exploration of inspiring and classic films from the Arab region and
its diaspora continues into the summer. Weekly screenings showcase some
of the most exciting directors, and films that often connect with pressing current issues.
In June they showcase some of the best recent
works to come out of Palestine including Omar, When I Saw You, Devine Intervention and much more.
Keep an eye open for updates on their autumn programme which promises to
include an examination of filmmaking in Syria plus a range of films from
Lebanon.
LSE Arabic Society Offer: Enjoy exclusive BFI Members rates on all
films in this strand. Simply quote LSE on line, in person or over the
phone (020 7928 3232). Tickets from £6.  For more information visit the BFI Website.