Gaza Calling + Land of the Brave + Gaza1920s + Skype Q&A
Friday 5th December, 2014, at 20:00
Watershed, 1 Canon's Road, Harbourside, Bristol, BS1 5TX
How to book
Tickets available through Watershed Box Office tel: 0117 9275100 or online at watershed.co.uk: £8.00 Full / £ 6.50 Cons.
Sign up to our newsletter for more announcements.
This event is presented with support from Unite Union and Bradford Friends of Palestine.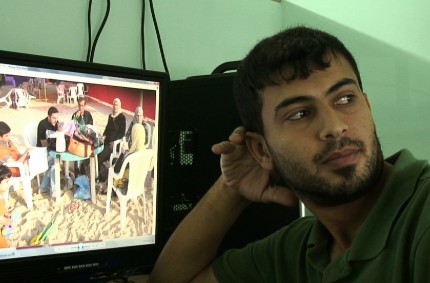 Gaza Calling
dir. Nahed Awwad, 2012, documentary, 64min
Samer lives in Ramallah in the West Bank. His family lives in Gaza, one hour away. They have not seen each other for six years. When Mustafa went for a visit to Gaza in 2006, he was 18 years old. He was never allowed to return – his mother Hekmat has been fighting to see him again for seven years. Two families torn apart. They share the same "crime": being registered with a Gaza address in their Identity Cards. Under Israeli rule, they are considered "infiltrators" in their own country. Their lives have turned into a permanent struggle. Parents can only talk to their sons on the phone; sisters can only see their brothers on the internet – mothers and their children fighting to be together at last…
Shuja'iyah: Land of the Brave
dir. Hadeel Assali, 2014, short, 5min
When we say "Crimes Against Humanity" – what "humanity" are we talking about? Here is the humanity of the Gaza Strip in Palestine. It features footage mostly of the directors family in the summer of 2013. It is juxtaposed against a stark call for help by a journalist during the Shuja'iyah massacre in Gaza in July 2014.
Gaza 1920s
dir. Wael Alsousi, 2014, short, 9min
GAZA 1920s is a short film by Palestinian filmmaker Wael Alsousi that takes on journey back in time to Gaza touring the city, streets, people and events through panoramic camera movement of photos taken in Gaza between the year 1916 and 1940s.
Director's Statement
The idea for making "GAZA 1920's" was conceived while browsing old pictures of Gaza. I was struck by the similarities between present-day Gaza and Gaza in the past and how some things haven't changed. Pictures of destruction and faces of foreign invaders from the past resemble the destruction and a different group of foreign invaders that Gaza is being subjected to today. Seeing these photographs of Gaza's past in a context of the real Gaza today, reminded me that its past is deeply entrenched in a history of foreign armies that occupied Palestine. It is a sad history that seems to have never changed.
Despite the sadness that these images inflict when understood in this way, the aim of "GAZA 1920's"is to show the beauty of a Gaza away from this destruction and how ordinary Gazans lived.At a time when Gaza was yet again being destroyed by air strikes (during the summer of 2014) the film offers a view of Gaza that most people will not have seen; a view that is peaceful, cultured, full of life and possibility. I want this film to show the stark contrast between the Gaza of the past and the effects of the siege that Gaza has been suffering from for the last 8 years. I want to show that the over-crowdedness and the destruction that Gaza is subjected to is the work of a ruthless occupation. I want people to see that Gaza was a beautiful place, lost to all mankind through war, destruction, greed and power.
In the last part of the film I wanted to shed light on a forgotten part of Gazan life: the al-Montar festival. This was an annual festival that was held in April every year since the 12th Century in Gaza, attended especially by Palestinians from al-Majdal and surrounding villages. The festival would usually last for a few days and included circus performances, poetry and literature, folk and religious songs, horse racing, farmers markets and leather products. Al-Majdal was occupied by Israeli forces and ethnically cleansed of its Palestinian inhabitants in 1948, at the start of the Nakba – which is commonly known in Palestine as a series of Catastrophes that lead to the declaration of the Israeli state and continues to this day. The al-Montar festival was formally stopped in 1956 after a heavy Israeliattack on Gaza. Today Al-Majdal is part of Israel and has been renamed Ashkelon.
The idea of using pictures from the early 20th century was to show that contrary to the Zionist claim that Palestine was a land without people, that Palestine had a very rich culture, a unique identity and a thriving community. I wanted to show part of our history that most Palestinians as well as internationals have never seen, in the hope that this would restore a little bit of faith in a Palestinian identity – because although Gaza may not be the same place it was before 1948 – the history of its people and culture has the opportunity to life on forever – and that is something that no occupation can destroy, if we mankind don't want it to.