Hunger Strike + Shorts
Wednesday 10th December, 2014, at 19:30
Easton Community Cinema (Baggator), The Pickle Factory, 13 All Hallows Road, Easton, Bristol BS5 0HH
How to Book
Tickets (£3 recommended donation) available on the night. Please join us from 7.30pm. The Cinema has an excellent kitchen and bar serving home cooked food and a range of beverages.
Screening starts at 8.15pm.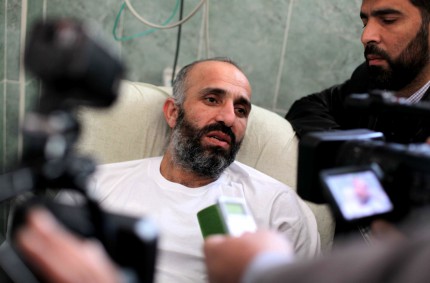 Hunger Strike
documentary, Gaza, 47m
This Al Jazeera Arabic/Focus film is about the experiences of Israeli-held Palestinian political prisoners on an open hunger strike to obtain better detention conditions.
Open hunger strikes have often been used in different parts of the world to draw attention to political and humanitarian causes. By reconstructing Ayman Al Sharawna's time in an Israeli jail, the film examines the strategic use of individual or group-initiated hunger strikes, what motivates hunger strikers, their survival under sustained pressure, and the mistreatment of detainees.
Interviewees include 1980s Irish hunger strikers Pat Shean and Brendan McFarlin, Palestinian prisoners like Samer Al Issawi; plus doctors, lawyers and researchers specialising in human rights and prisoner conditions.
Presented with the support of Al Jazeera.
Selected Shorts
Selected by filmmaker Annemarie Jacir Rawan Tamimi's "I am From Nabi Saleh" and Jaber Abu Rahme's "Flower in a Tear Gas" are examples of outstanding works by young first-time directors from Palestine. The filmmakers illustrate their own perspective of life under occupation and nonviolent means to resist it.