Open Bethlehem + Q&A
Tuesday 16th December, 2014, at 18:00
Watershed, Bristol, BS1 5TX
How to book
Tickets available through Watershed Box Office tel: 0117 9275100 or online at watershed.co.uk: £8.00 Full / £ 6.50 Cons.
Sign up to our newsletter for more announcements.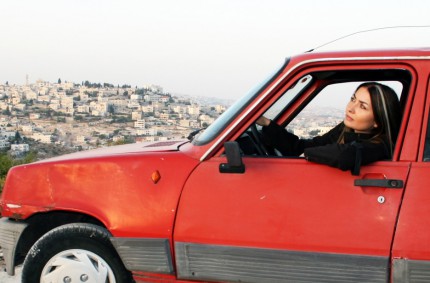 Open Bethlehem
dir. Leila Sansour, 2014, documentary, 90min
One of the most remarkable and moving documentaries I have seen about this unreported story. The tragedy of the Palestinians encapsulated in the life of one family and one town – Bethlehem. See the film, then go to Bethlehem and see for yourself."
John Snow
Film director Leila Sansour returns to Bethlehem to make a film about her home town, soon to be encircled by a wall. She left the city as a teenager thinking that Bethlehem was too small and provincial. She never wanted to return but this time she is making an exception. Armed with her camera and a dilapidated family car that keeps breaking down, Leila plans to make an epic film about a legendary town in crisis but just few months into filming her life and the film take an unexpected turn when cousin Carol, Leila's last relative in town, persuades her to stay to start a campaign to save the city.
'Open Bethlehem' is a story of a homecoming to the world's most famous little town. The film spans seven momentous years in the life of Bethlehem, revealing a city of astonishing beauty and political strife under occupation. The film draws from 700 hours of original footage and some rare archive material. In fact the making of this film  has led to the creation of the largest visual archive of Bethlehem in the world and plans are currently being discussed with University College London (UCL) to turn the collection into a museum. The film is also a tribute to Leila's late father, founder of Bethlehem University, and a man regarded as a hero by his town's folk.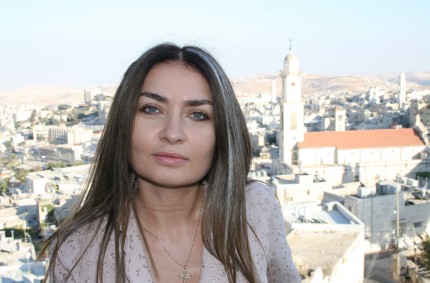 Leila Sansour
Leila Sansour is an acclaimed film maker with an unconventional portfolio. She is the founder and spokesperson of Open Bethlehem, an organization that works to bring international commitment to the resolution of the Israeli/Palestinian question using Bethlehem as a gateway into the situation. She is a well known speaker on issues of the Middle East. She has written articles and given talks at the British parliament, The Royal Institute of Foreign Affairs (UK), The Royal College of Defense, The Carter Center, Amnesty International and many other venues.
Leila holds a masters degree in philosophy. She began her career in television working as a producer and commissioning editor for MBC and then moved to produce 15 episodes of Aljazeera's leading documentary series "Encounter in Exile".
She is best known for her feature‐length documentary, 'Jeremy Hardy versus the Israeli Army' 2003, a tragicomic film shot with celebrated British comedian Jeremy Hardy. The film received four‐and five‐star reviews in the national press before its release across cinemas in the UK and its tour in the US as part of Amnesty International's Roaming Film Festival.
Leila's latest film 'Open Bethlehem' 90min, is planned for release in Christmas 2014. The film was shot over five years in Bethlehem during the building of the Israeli wall and has resulted in the gathering of one of the largest visual archive of the city both past and present. Plans are currently being discussed to turn the collection into a permanent museum.
Watch the Q&A with Leila Sansour