Holy Air + Izriqaq
Monday 11th December, 2017, at 18:00
The Cube
Holy Air
Israel, 2017, 81 min, Arabic/Hebrew/English/French/Italian with English subtitles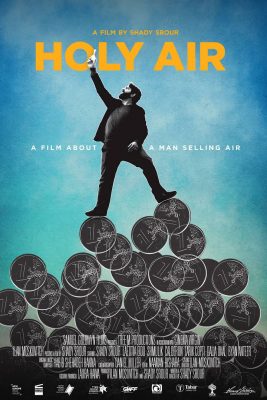 Adam (writer/director Shady Srour) and Lamia (Laëtitia Eïdo) are a Christian Arab couple from Nazareth – members of a vanishing minority in the Holy Land. When Lamia becomes pregnant, Adam decides he has to get serious about providing for his family. He embarks on his riskiest business venture to date: bottling holy air and selling it to the city's tourists. To succeed in this business, Adam must navigate the challenging social crosscurrents that swirl around him: Catholic capitalists, Jewish bureaucrats, Muslim gangsters.
A colourful snapshot of modern-day Nazareth, Holy Air examines the complicated emotions that go into living as a modern, progressive family on the world's most spiritual ground. Srour and Eïdo give remarkable and unflinching performances in this endearing comedy on spirituality, ideology, and survival, as the film asks: which of these three must be sacrificed to preserve the others?
Izriqaq
Director: Rama Mari, Palestine, 2013, 20 min
Set in a small village in the West Bank surrounded by picturesque hills, Izriqaq follows a young man, Yassine, and his mother as they attempt to cover up a violent crime. This slow-moving and exquisitely shot film explores the relationship between its protagonists and the Israeli soldiers who are never far away.
Tickets are available here