The Shroud Maker
Saturday 4th December, 2021
1532 Performing Arts Centre, Clifton, BS8 1SJ
£10 Full / £15 Solidarity / £5 Cons
Performances at 2:30pm and 7:30pm.
Panel discussion at 6:00pm.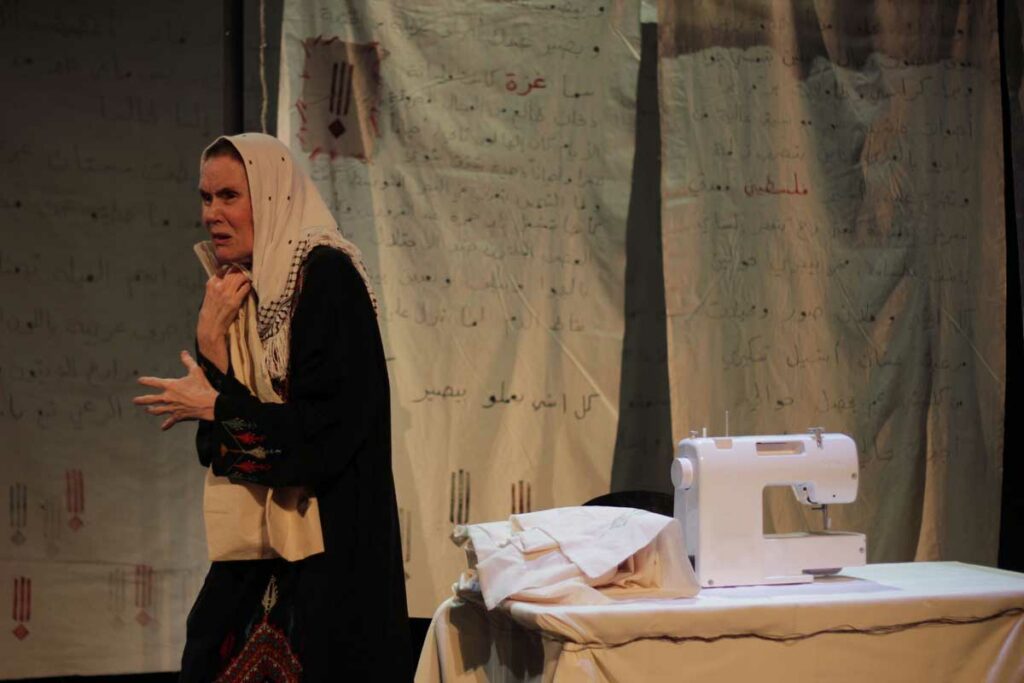 Business is booming for 84-year-old Palestinian Hajja Souad. She has survived decades of war, deportation, and oppression by making shrouds for the dead, profiting from continuous Israeli attacks.
Just when she thought she had put the years of pain behind her, Hajja's past comes back to haunt her and she is forced to make a big decision. But before she does so, she takes us on a journey, telling a harrowing story of courage, love, escape and disappointment.
As a young girl, Hajja left her village of Aqqur near Jerusalem in the 1940s and moved to live at the mansion of the newly appointed British High Commissioner in Palestine, Sir Alan Cunningham. There she was raised by the commissioner's wife, who taught her the British way of life. When the British forces withdrew and the Union Jack was drawn down at the port of Haifa, the Cunninghams returned to London, leaving Hajja alone to her fate in the big mansion.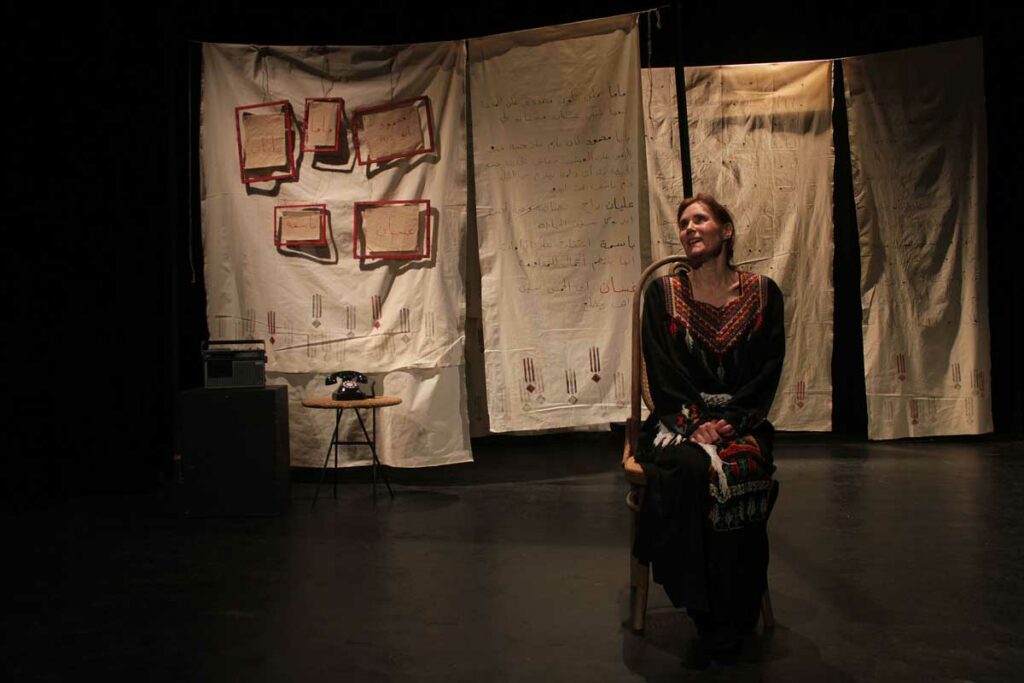 Loosely based on a real person still living in Gaza, this one-woman comedy weaves comic fantasy and satire with true stories and offers a vivid portrait of Palestinian life in Gaza.
The writer and director Ahmed Masoud explains: "This is about the life of ordinary Palestinians. It tells the history of Palestine through a very personal story, filled with courage, love, escape and disappointment."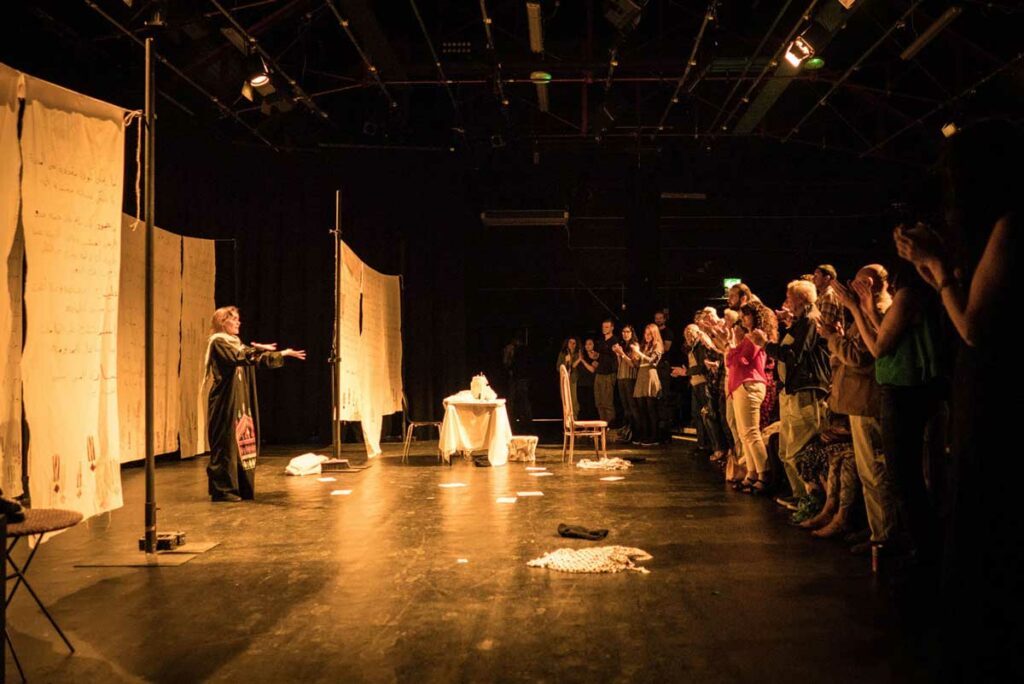 "A unique balance of heartache and laughter… the audience is left with tears in their eyes even as they try to laugh."
Middle East Monitor
"While the context of the performance adds an extra layer of tragedy, Masoud's gallows humour is more than welcome."
Ceasefire Magazine
"This is theatre-making of the highest order and an early contender for show of the year. I urge you to see it."
Greenwich Visitor Blog
Panel discussion (free)
In addition to the show, there will be a 45-minute panel discussion at 6pm with the writer and director Ahmed Masoud and Palestinian Ambassador to the UK H.E. Husam Zomlot, discussing the role of cultural resistance in ending the Occupation. The panel discussion will be free to attend.
Ahmed Masoud
Ahmed is a writer and director who grew up in Palestine and moved to the UK in 2002. He is the author of the acclaimed novel Vanished – The Mysterious Disappearance of Mustafa Ouda. Last year he worked with Maxine Peake on Obliterated, a theatrical experiment and artistic protest.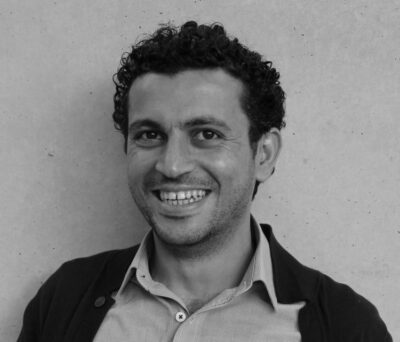 Ahmed's theatre credits include Application 39 (WDR Radio, Germany 2018), Camouflage (London 2017), The Shroud Maker (London 2015-2019), Walaa, Loyalty (London 2014, funded by Arts Council England), Go to Gaza, Drink the Sea (London and Edinburgh 2009) and Escape from Gaza (BBC Radio 4, 2011). Ahmed is the founder of Al Zaytouna Dance Theatre (2005) where he wrote and directed several productions in London, with subsequent European Tours. After finishing his PhD research, Ahmed published many journals and articles including a chapter in Britain and the Muslim World: A historical Perspective (Cambridge Scholars Publishing, 2011). An earlier version of Vanished won a Muslim Writers Award (sponsored by Penguin Books) in 2011.
For more information, visit: www.ahmedmasoud.co.uk
Julia Tarnoky
Julia's previous roles include Sylvia Plath in Sylvia, directed by Ralph Fiennes, Helen in Corryvreckan for which she won the LFA Best Actress Award, extensive credits with Howard Barker and The Wrestling School, Deborah in A Kind of Alaska, Ruth Holderness in Bridlington, and Tyu in Reema Sengupta's Tyu's Company, an award-winning short selected for nine international film festivals.
Ambassador Dr Husam S. Zomlot
Ambassador Dr Husam S. Zomlot is the Head of the Palestinian Mission to the UK. Prior to his appointment to the UK, Dr Zomlot served as Ambassador to the United States (Head of the PLO General Delegation to the United States), and Strategic Affairs Advisor to the Palestinian President. Dr Zomlot's previous official roles include serving as Ambassador-at-large for the Palestinian Presidency and Director of Fatah Foreign Relations Commission.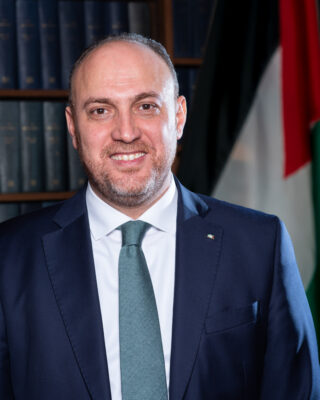 Dr Zomlot holds a PhD in economics from the University of London, was a professor of strategy and public policy at Birzeit University, where he co-founded and chaired Birzeit School of Government, and he held a number of teaching and research positions at Harvard University and the University of London. His professional experiences include working as an economist at the United Nations and Economic Researcher with London School of Economics and the Palestine Policy Research Institute.
Dr Zomlot is married and has three children.
How to book tickets
There will be two performances running on Saturday 4 December, a matinee at 2:30pm, and an evening show at 7:30pm. Tickets prices below.
£10 Standard ticket
£15 Solidarity ticket (supports a free place for a BTEC student to see the 2.30pm matinee performance)
£5 Concession ticket
plus £1 booking fee per ticket)